HAZZAH Apparel

Awesome clothing for awesome people
HAZZAH Apparel

Awesome clothing for awesome people
HAZZAH Apparel

Awesome clothing for awesome people
HAZZAH Apparel

Awesome clothing for awesome people
HAZZAH Apparel

Awesome clothing for awesome people
HAZZAH Apparel
Awesome clothing for awesome people
HAZZAH Apparel
Awesome clothing for awesome people
HAZZAH Apparel
Awesome clothing for awesome people
HAZZAH Apparel
Awesome clothing for awesome people
HAZZAH Apparel
Awesome clothing for awesome people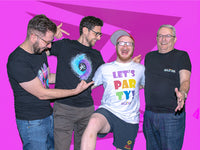 Story About HAZZAH
MEET THE HAZZAH FAMILY
Benjamin Paior-Smith (pictured 2nd from the right) is the brains and passion behind the HAZZAH brand.
It's been a dream of Ben's to build a brand/community around acceptance for people to be themselves, embrace being unique and of course having FUN!
Ben has teamed up with a variety of creative minds to execute his brilliant ideas!

Join the HAZZAH Family by grabbing yourself some of the awesome products!
NEW SUMMER SHIRTS
Grab a colourful, fun shirt for the holidays!
HAPPY HOLIDAYS
A new HAZZAH Holiday shirt for you wardrobe or to give as the perfect gift!
Free Shipping Australia Wide!
HAPPY CUSTOMERS!
Great service, beautiful quality t shirts, thanks Ben

from ACT
One t-shirt is never enough!

from ACT
Thank HAZZAH I love mine!

from SA